This is a comprehensive list of Governors and Administrators of Ogun state, south-west Nigeria.
Major General SAIDU AYODELE BALOGUN (born 1941), was appointed the first Governor of Ogun State, Nigeria after it was formed from part of the old Western State in March 1976, holding office until July 1978 during the military regime of General Olusegun Obasanjo.
GOVERNOR OF OGUN STATE In office March 1976 – July 1978 Preceded by David Jemibewon (Western State) Succeeded by Harris Eghagha
PERSONAL DETAILS Born: 1941
Balogun was an infantry brigade commander at the time of the coup in July 1975 when General Yakubu Gowon was ousted by general Murtala Mohammed. When appointed governor of the newly created Ogun State by Murtala Mohammed's successor, Olusegun Obasanjo, he faced various problems such as finding accommodation for government workers, who at first had to commute from Ibadan in the new Oyo State to Abeokuta, although by the end of his term of office most had found local accommodations. The Government offices were mostly rented at first.He established the Ogun State School of Health Technology of Ilese-Ijebu, at first on a temporary site.
Brigadier General HARRIS OTADAFEVWERHA DEODEMISE EGHAGHA was appointed Military Governor of Ogun State, Nigeria from July 1978 to October 1979 during the military regime of General Olusegun Obasanjo, handing over power to the elected governor Olabisi Onabanjo at the start of the Nigerian Second Republic.
GOVERNOR OF OGUN STATE
In office July 1978 – October 1979 Preceded by Saidu Ayodele Balogun Succeeded by Olabisi Onabanjo
PERSONAL DETAILS
Born: 8 March 1934 Okpe LGA, Delta State, Nigeria Died: 19 March 2009
Eghagha was born on 8 March 1934 in Mereje, Okpe Local Government Area, Urhoboland, Delta State.
Eghagha played a minor role in the January 1966 coup that overthrew the Nigerian First Republic and brought in the military regime of Major-General Johnson Aguiyi-Ironsi, as a second lieutenant in charge of a roadblock in Kaduna. His achievements while governor of Ogun State included building the legislative quarters and the road network in Abeokuta, the state capital. He built and commissioned the Ogun State Hotel, Abeokuta, established industrial estates throughout the State and founded the Ogun State Polytechnic (now Moshood Abiola Polytechnic) in Abeokuta. He also served as Acting Governor of Sokoto and Kwara States, and was Nigeria's High Commissioner to Ghana.
Brigadier General Harris Eghagha died at the Lagos University Teaching Hospital on 19 March 2009, aged 75.
Chief VICTOR OLABISI ONABANJO (February 12, 1927 – April 14, 1990) was governor of Ogun State in Nigeria from October 1979 – December 1983, during the Nigerian Second Republic. He was of Ijebu extraction.
GOVERNOR OF OGUN STATE In office Oct 1979 – Dec 1983 Preceded by Harris Eghagha Succeeded by Oladipo Diya
PERSONAL DETAILS
Born: February 12, 1927 Lagos, Nigeria
Died: April 14, 1990 (aged 63)
BACKGROUND
Oloye Victor Olabisi Onabanjo was born in 1927 in Lagos. He was educated at Baptist Academy in Lagos and at the Regent Street Polytechnic in the United Kingdom, where he studied journalism between 1950 and 1951. He worked as a journalist for several years before becoming a full-time politician. His column Aiyekooto (a Yoruba word meaning "parrot" – a creature known in Yoruba mythology for telling the plain truth) appeared in the Daily Service and Daily Express newspapers between 1954 and 1962.
POLITICAL CAREER
Olabisi Onabanjo was elected chairman of the Ijebu Ode Local Government Area in 1977 under the tutelage of Chief Obafemi Awolowo. He was subsequently elected governor of Ogun State in October 1979 on the Unity Party of Nigeria platform. He was known as an unpretentious and plain-speaking man, and his administration of Ogun State was considered a model at the time and later.
On May the 13th, 1982, he commissioned Ogun Television.[5] The Ogun State University, founded on the 7th of July, 1982, was renamed Olabisi Onabanjo University on May 29th, 2001, in his memory. He established the Abraham Adesanya Polytechnic. General Oladipo Diya, who became military governor in 1983, closed the school down, and it remained closed until it was re-opened after the return to democracy in 1999.
LATER CAREER
When General Muhammadu Buhari took power in a military coup, he was thrown in jail for several years. After his eventual release, he returned to journalism, publishing his Aiyekooto column in the Nigerian Tribune from 1987 to 1989. Chief Onabanjo died on April the 14th, 1990. Selected articles from his column were published in a book in 1991.
BIBLIOGRAPHY
Victor Olabisi Onabanjo (Edited by Felix A. Adenaike) (1991). Aiyekooto. Syndicated Communications Ltd, Ibadan. ISBN 978-31115-0-7.
DONALDSON OLADIPO DIYA (born 3 April 1944) is a retired Lt. General in the Nigerian Army. He was appointed Military Governor of Ogun State from January 1984 to August 1985. As Chief of the General Staff, he was the de facto Vice President of Nigeria during the Sani Abacha military junta from 1994 until he was arrested for treason in 1997. His Principal Staff Officer during this period was Bode George, who joined the People's Democratic Party after democracy was restored in 1999.
9TH CHIEF OF GENERAL STAFF In office 1993–1997
PRESIDENT: Gen. Sani Abacha as Military Head of State Preceded by Admiral Augustus Aikhomu Succeeded by Admiral Mike Akhigbe
CHIEF OF DEFENCE STAFF In office 1993–1993 Preceded by Gen. Sani Abacha Succeeded by Gen. Abdulsalami Abubakar
GOVERNOR OF OGUN STATE In office January 1984 – August 1985 Preceded by Olabisi Onabanjo Succeeded by Oladayo Popoola
PERSONAL DETAILS
Born: 3 April 1944 (age 76) Odogbolu, Ogun State, Nigeria ALMA MATER: Nigerian Defence Academy
MILITARY SERVICE
Allegiance: Nigeria
Branch/service: Nigerian Army
Years of service: 1964-1997
Rank: Lieutenant General
BIRTH AND EDUCATION
Donaldson Oladipo Diya was born on 3 April 1944 at Odogbolu, Ogun State, then Western Region, Nigeria. He was educated at the Methodist Primary School, Lagos, the Odogbolu Grammar School, and then at the Nigerian Defence Academy, Kaduna. He later attended the US Army School of Infantry, the Command and Staff College, Jaji (1980–1981) and the National Institute for Policy and Strategic Studies, Kuru. While serving in the military, Diya studied Law at Ahmadu Bello University, Zaria, where he obtained an LLB degree, and then at the Nigerian Law School, where he was called to bar as Solicitor and Advocate of the Supreme Court of Nigeria.
MILITARY CAREER
Oladipo Diya became Commander 31, Airborne Brigade. He was appointed Military Governor of Ogun State from January 1984 to August 1985. He became General Officer Commanding 82 Division, Nigeria Army in 1985. General Oladipo Diya was Commandant, National War college (1991–1993) and then was appointed as Chief of Defence Staff. He was appointed Chief of General Staff in 1993 and Vice Chairman of the Provisional Ruling Council in 1994.
BOTCHED COUP ATTEMPT
In 1997 Diya and dissident soldiers in the military allegedly planned to overthrow the regime of Sani Abacha. The alleged coup was uncovered by forces loyal to Abacha, and Diya and his cohorts were jailed. Diya was tried in a military tribunal, and was given the death penalty. Upon the untimely death of Abacha in 1998, Diya was not pardoned by the late Head of State's successor, Abdusalami Abubakar.
Most people believed that the much-hyped coup was in fact a ploy by Abacha to do away with Diya, who was increasingly becoming popular among the elite and opposition parties, for his moderate views on the situation in Nigeria. Earlier on, Abacha's loyalists had twice attempted to assassinate Diya, once at the airport and then in the streets, using bombs. But most analysts said that whether motivated by a real coup plot or not, the arrest of General Diya signaled deep divisions within the Nigerian military and reflected rising tensions over General Abacha's apparent intention to remain in office by engineering his own election as President.
Late Chief Gani Fawehinmi, a leading Nigerian human rights campaigner, said: Almost everybody mentioned in the alleged coup had been an Abachaboy, an Abacha henchman, so the situation is very funny. The facts are not clear to us. We want the whole truth. Late Chief Fawehinmi was quoted in The Post Express, a Lagos daily.
The fact that General Diya and almost all of the others arrested were ethnic Yoruba from the already deeply disaffected southwest was seen by some as a virtual provocation at a time when a country of powerful regional rivalries was entering into a period of renewed civilian politicking. General Abacha, like his inner core of senior officers and much of the army's rank and file, was a Hausa-speaking northerner of Kanuri origin.
DEATH SENTENCE
After his arrest, a military tribunal sitting in the Nigerian town of Jos sentenced six people including Lieutenant General Oladipo Diya to death by firing squad in April 1998. The accused were brought to the main military barracks in Jos for the trial. Security was tight, and the men on trial were chained hand and foot during the proceedings. In a dramatic statement at the outset of the trial, General Diya asserted that he had been entrapped by another officer close to General Abacha, Gen. Ishaya Bamaiyi, who approached him with the idea of mounting a coup. Given the explosive nature of the charge, the government then closed the trial to the public The head of the military tribunal, General Victor Malu, the former commander of the West African regional peacekeeping force ECOMOG, responding to Lieutenant General Diya's defence that people at the very top framed him, said it was not necessary to know who had initiated the conspiracy. He noted that all Lieutenant General Diya had to do was prove that he had not been part of the plot at any stage. General Malu assured the defendants that they would be given a fair trial and unlimited access to information they needed to defend themselves. "This tribunal will not conduct or tolerate a trial by ambush", he said.
The South African government questioned the secrecy surrounding the trial and warned of the probability that there could be an unfavorable reaction, both in Nigeria and internationally, to a carrying out of the sentences. The sentence was later commuted by the head of state, Abdusalami Abubakar, who succeeded General Abacha.
LATER CAREER
Following his release General Diya has refused to co-operate with any investigations by Nigeria's Truth and Reconciliation Tribunals into his activities while he was vice president. He has spent most of his time attempting to recover possession of various properties seized by the government on his arrest. He has made no attempt to explain how he purchased these lavish properties on the salary of a lieutenant general.
OLADAYO POPOOLA (Yoruba: Oládayọ̀ Pópóọlá; born 26 February 1944) is a retired Nigerian major-general who was military governor of Oyo State (January 1984 – August 1985) during the military regime of Major-General Muhammadu Buhari, He was then appointed Military Governor of Ogun State (August 1985 – 1986) during the military regime of General Ibrahim Babangida.
MILITARY GOVERNOR OF OYO STATE In Office January 1984 – August 1985 Preceded by Dr. Victor Omololu Olunloyo Succeeded by Colonel Adetunji Idowu Olurin
Military Governor Of Ogun State In office August 1985 – 1986 Preceded by Oladipo Diya Succeeded by Raji Alagbe Rasaki
PERSONAL DETAILS
Born: 26 February 1944 (age 76)
BIOGRAPHY
Oladayo Popoola was born on 26 February 1944. He completed his secondary education in Ikire, Osun State. He joined the army and moved up steadily through the ranks, becoming deputy defense adviser at the Nigerian High Commission, India, director at the Staff College, Jaji, and Chief of Administration and Chief of Logistics Army Headquarters. He was appointed military governor of Oyo State in January 1984 and governor of Ogun State in August 1985. He was a member of the Provisional Ruling Council.
Nigeria and Cameroon disputed ownership of the Bakassi Peninsula, thought to hold major oil reserves, with sporadic fighting starting in 1994. In November 1998, Nigeria and Cameroon exchanged prisoners of war. As commander of Nigerian forces in the region (82 Mechanised Division, Enugu), General Oladayo Popoola said the exchange was made in the "spirit of reconciliation in our countries".
While in the army, Popoola studied Law at the University of Lagos as a part-time student, obtaining an LL.B. degree. Later he attended the Nigerian Law School, Lagos and became a Barrister at Law. In March 1999, he was chair of the Presidential Committee on Development Options for the Niger Delta, which recommended increased funds for infrastructural development and establishment of a Niger Delta Consultative Council. Popoola was required to retire from the at the start of the Nigerian Fourth Republic, as were all other former military governors and administrators. In 2004, he was working as managing director of Daybis Printing Press, a company in Ibadan.
Brigadier General RAJI ALAGBE RASAKI (born 7 January 1947) is a retired Nigerian military officer who was military governor in turn of Ogun State, Ondo State and Lagos State between 1986 and 1991 during the military administration of General Ibrahim Babangida.
MILITARY GOVERNOR OF OGUN STATE In office 1986 – December 1987 Preceded by Oladayo Popoola Succeeded by Mohammed Lawal
MILITARY GOVERNOR OF ONDO STATE In office 17 December 1987 – July 1988 Preceded by Ekundayo Opaleye Succeeded by Bode George
Military Governor Of Lagos State In office 1988–1991 Preceded by Navy Captain Mike Akhigbe Succeeded by Michael Otedola
PERSONAL DETAILS
Born 7 January 1947 (age 73) Ibadan SPOUSE(s) Fatimat Olufunke RajiI-Rasaki
BACKGROUND
Raji Alagbe Rasaki was born on 7 January 1947 in Ibadan, Nigeria. He attended Nigerian Military School, Zaria, for his secondary education and then the Nigerian Defence Academy, where he was commissioned an officer in the Nigerian Army. He held many command and staff positions: he was Adjutant, Lagos Garrison Signal Regiment (1970–71), Commanding Officer Second Signal Regiment, Commander Signal Support Brigade (1978–79), Commander Army Signal Corps, Commander Army Headquarters Garrison & Signal Group.
MILITARY GOVERNOR
Raji Rasaki was a one time military governor of Ogun State (1986–87) before his re-deployment to the nation's economic nerve center, Lagos State, becoming that state's military governor in 1988. Soon after, he embarked on a massive demolition exercise of illegal structures to rid the State of shanties. That singular act resulted in the re-vitalization of Lagos, and a boom in the real estate market. It also earned him the nickname of "acsion governor" (action governor), a mockery of the way in which he referred to himself.
A member of the armed forces ruling council; he gained national prominence during the 22 April 1990 unsuccessful coup against the Ibrahim Babangida regime. The plotters led by the late Major Gideon Orkar had attempted to overrun the then seat of the Federal Government; Dodan Barracks, and in that process killing Babangida's Aide de Camp, Major U.K. Bello. Late Major Orkar had announced many far-reaching declarations, which included radical restructuring of the federation bordering on the excision of five core northern States until the coup was foiled by officers loyal to Babangida. The first announcement to this effect came from the then military governor of Lagos state, Col. Raji Rasaki, who declared in a radio broadcast that the rebellion was already being contained.
LATER CAREER
Following his retirement from the army, Rasaki wrote several policy papers and memoirs. In addition he pursued a career as a statesman; participating in numerous conferences and forums. As a public speaker, he addressed audiences across the country and abroad. In 2005 he joined the Nigerian Peoples Democratic Party (PDP).
In 2016, he celebrated 40 years of his marriage to Senator Fatimat Olufunke Raji-Rasaki.
Rear Admiral (rtd) MOHAMMED ALABI December 1987 and August 1990 during the military administration of General Ibrahim Babangida. He was one of the pioneers of the Nigeria Navy Secondary School Abeokuta.The then Navy Captain Mohammed Lawal, invited the Nigerian Navy to consider a location of the defunct St Leo's Teachers' Training College at Ibara Abeokuta on a hilly Onikolobo site. This premises had been abandoned and merely serve as a route to the Catholic Compound and was also used for administering a newly conceived secondary school in that name. The Nigerian Navy considered the site and found it suitable. After the return to democracy in 1999 he was elected governor of Kwara State, holding office from 29 May 1999 to 29 May 2003.
MILITARY GOVERNOR OF OGUN STATE In office December 1987 – August 1990 Preceded by Raji Alagbe Rasaki Succeeded by Oladeinde Joseph
EXECUTIVE GOVERNOR OF KWARA STATE In office 29 May 1999 – 29 May 2003 Preceded by Rasheed Shekoni Succeeded by Bukola Saraki
PERSONAL DETAILS
Born 24 January 1946 Ilorin
Died 15 November 2006
Nationality: Nigerian
MILITARY SERVICE
Allegiance: Nigeria
Branch/service: Badge of the Nigerian Navy.svg Nigerian Navy
RANK: Rear Admiral
In the April 1999 elections, Lawal was elected governor of Kwara State under the umbrella of the All Peoples Party (APP). He was said to be a protégé of Senator Dr. Abubakar Olusola Saraki. Saraki later moved to the People's Democratic Party (PDP).
Lawal initiated a N250 million libel action against a paper The People's Advocate based in Ilorin, published by Abdulkareem Adisa but later withdrew the suit after the two men were reconciled.
In the 2003 elections, he ran for reelection but lose as his previous supporter Abubakar Saraki backed his son Bukola Saraki as candidate for governor of Kwara state and his daughter Gbemisola R. Saraki as senator for Kwara State Central, both of whom were elected.
In October 2006, it was reported that Nuhu Ribadu, chairman of the Economic and Financial Crimes Commission was investigating Lawal for alleged diversion of funds.
Lawal died in a London hospital after a brief illness in November 2006.
Navy Captain (later Rear Admiral) OLADEINDE JOSEPH was military governor of Ogun State, Nigeria between August 1990 and January 1992 during the military administration of General Ibrahim Babangida, handing over power to the elected civilian governor Segun Osoba. He was instrumental in establishing the Nigerian Navy Secondary School, Abeokuta. Other construction in Abeokuta during his administration included the South-West Resource Centre and the Abeokuta Golf Course.
MILITARY GOVERNOR OF OGUN STATE In office August 1990 – January 1992 Preceded by Mohammed Lawal Succeeded by Segun Osoba
PERSONAL DETAILS Born: 1948
Chief OLUSEGUN OSOBA (born on 15 July 1939 at an Egba settlement in Osogbo) is a Nigerian journalist and politician.
EXECUTIVE GOVERNOR OF OGUN STATE In office January 1992 – November 1993 Preceded by Oladeinde Joseph Succeeded by Daniel Akintonde
EXECUTIVE GOVERNOR OF OGUN STATE In office 29 May 1999 – 29 May 2003 Preceded by Kayode Olofin-Moyin Succeeded by Otunba Gbenga Daniel
PERSONAL DETAILS Born: 15 July 1939 EARLY LIFE Olusegun Osoba was born to Mr. and Mrs. Jonathan Babatunde Osoba.
EDUCATION
Chief Olusegun Osoba attended a series of professional courses after high school graduation from Methodist Boys High School Lagos. He obtained a diploma in journalism at the University of Lagos and went for one-year course in the United Kingdom on the scholarship of the Commonwealth Press Union in 1967. In 1969, he was studying in Bloomington, USA at the Indiana University's department of journalism. In 1974 he won the Nieman Fellowship Award for journalism for years postgraduate study at Harvard University Cambridge, Massachusetts, USA. He is the first Nigerian to have won this prestigious Nieman Fellowship for Journalism.
JOURNALISM
Chief Olusegun Osoba started his career in journalism in 1964 working with the Daily Times as a trainee reporter covering crime stories and by 1966, he was the diplomatic correspondent of the Times. He became news editor in 1968, deputy editor of the Sunday Times in 1971 and deputy editor of the Times in 1972. In August 1975, he became the Editor of the Daily Times of Nigeria, then left the firm in November 1975 to take up the task of General Manager of the Ilorin based Nigerian Herald. He returned to the Times in 1984 as the managing director. Internationally, he worked as stringer or local correspondent for the following organizations: The British Broadcasting Corporation (BBC),The Times of London,Newsweek Magazine, U.S.A, United Press International News Agency (UPI). He was the chairman of the Governing Board of the Nigerian Institute of Journalism and Member of the Executive Board of the International Press Institute representing Black-Africa from 1984-1992. He was a member of the Nigerian Constituent Assembly in 1988. He is also member of the Commonwealth Press Union, London and the Nigerian union of Journalist (NUJ).
POLITICAL CAREER
Chief Olusegun Osoba was elected on two different occasions as Governor of Ogun State first from January 1992 until November 1993 with the Social Democratic Party (SDP). He was removed from office by Sani Abacha's administration on 17 November 1993. In 1999, he was elected again as governor with the Alliance for Democracy party (AD), holding office between May 1999 and May 2003.
He holds the National Honours of the Commander of the Order of the Niger CON. He is a member of the National Conference 2014.
PERSONAL LIFE
Chief Osoba is married to Chief Aderinsola Osoba, the Beere Awujale of Ijebu. They are the parents of four children, two boys and two girls: Kemi, Olumide, Oluyinka and Tobi.
Chief Osoba holds the chieftaincy titles of the Akinrogun of Egbaland and the Aremo Awujale of Ijebu.
GBENGA DANIEL (OGD) (born 6 April 1956) is a Nigerian politician and Governor of Ogun State of Nigeria from 29 May 2003 to 29 May 2011, making him the longest-serving governor of Ogun state. He is a member of the People's Democratic Party (PDP). He is the owner of the Nigerian Compass, a daily newspaper and also Kresta Laurel, a company he started in 1990.
14TH GOVERNOR OF OGUN STATE In office 29 May 2003 – May 2011 Preceded by Olusegun Osoba Succeeded by Ibikunle Amosun
PERSONAL DETAILS Born: 6 April 1956 (age 64) Ibadan
POLITICAL PARTY: People's Democratic Party PDP
ALMA MATER: University of Lagos (BS)
Lagos Business School (MBA)
PROFESSION:
Businessman &Politician
Website: otunbagbengadaniel.org
As governor, he has attracted heavy criticisms and commendations as well. He constructed the new government secretariat at Oke Mosan which brought all the state ministries together in one administrative complex. His program on Public Private Partnership attracted several businesses into the State during his tenure.
BACKGROUND
Otunba Gbenga Daniel Born on 6 April 1956 into the family of Rt. Rev. Adebola Daniel of Makun Sagamu and Madam Olaitan Daniel, of Omu Ijebu, Otunba Justus Olugbenga Daniel Governor of Ogun State 2003–2011 is versatile. Otunba Gbenga Daniel's skills as a consumable manager and strategist manifested as early as 1969 while at the Baptist Boys' High School, Abeokuta that he attended from 1969 to 1973. While there, he represented the school in a lot of extra curricular activities such as debates and quiz competitions, a factor which made him exceptionally popular among his contemporaries and which also stimulated his intellectual prowess. Having graduated from the Baptist Boys High School in flying colors, he proceeded first to the School of Basic Studies at The Polytechnic, Ibadan for his Advanced Level (A' Level) and thereafter moved to the School of Engineering of the University of Lagos. In his early years as an undergraduate, he won several scholarships and also became well acquainted with the legendary, Prof. Ayodele Awojobi as one of the best students of the late prodigy. It was whilst still an undergraduate, that he became indoctrinated into the select Committee of friends of the late Saga,Chief Obafemi Awolowo. His decision to study engineering was influenced by the brilliant engineer and teacher Ayodele Awojobi. Daniel spent much time with Awojobi, and was a winner and champion several times over, on his television quiz show "Mastermind".
PROFESSIONAL AND BUSINESS CAREER
Daniel became a fellow of the Nigerian Society of Engineers. He taught briefly as a lecturer in the School of Engineering of Lagos State Polytechnic. In 1983, he obtained a job with Schroeder (W.A.) Limited, Lagos, rising to Deputy managing director becoming the first African to hold that position in the history of the company. He left Schroeder to start his own business. In 1990 he founded Kresta Laurel, an engineering firm specialising in elevators, overhead travelling cranes and hoists.
CAMPAIGN FOR GOVERNOR
Gbenga Daniel's campaign for the seat of the governor has been described by political analyst as "electric" considering the fact that as a business man, he defeated a sitting governor. His campaign was a revolution in the state in 2003 as he visited all the 236 wards of Ogun State, meeting with every stakeholder of every streets and area in the state to sell his ideas. Some faulted his campaign strategy as being desperate while other schools of thoughts strongly opined that it is the ideal thing for politicians to get close to the people.
GOVERNOR OF OGUN STATE
Daniel was elected governor of Ogun State in April 2003, running on the PDP platform beating the incumbent with 217, 353 votes. His victory remains the biggest electoral victory in Ogun state. He scored 449,335 votes against the sitting governor who scored 231,982 votes recording the widest margin ever in Ogun state governorship race.
He acquired the chiefly title Otunba of the Egba and Ijebu clans of the state during the course of his first term. He was re-elected in April 2007. His April 2007 election was disputed by rival candidate Ibikunle Amosun of the All Nigeria People's Party (ANPP), but in August 2009 the Ogun State Election Petitions Tribunal dismissed the petition.
In August 2006, the website Elundu Reports published what it claimed to be evidence that Daniel had obtained two houses in London after being sworn in as governor.
In June 2009, he drew criticism for his proposal to float a N60bn bond for commercial developmental projects in the state, which was said to be contrary to his stated principles about the Public – Private Partnership (PPP). In December 2008, Senator Iyabo Obasanjo-Bello, daughter of former President Olusegun Obasanjo, wrote a letter to Inspector-General of Police, Mike Okiro saying that Gbenga Daniel was after her life and calling for police action.
In July 2009, a scandal blew up with the publication in the Nigerian Compass of a photograph that allegedly showed Wale Alausa, a member of the state House of Assembly, taking a blood oath which the paper said was to ensure secrecy and unity of purpose in a bid to impeach Daniel. The Nigerian Compass is owned by Gbenga Daniel. Alausa said the pictures were real, but the blood oath was an oath of allegiance to Daniel, which he had taken at the governor's insistence.
He promoted entrepreneurship amongst young people through voracious youth development programmes. The Nigerian Youth Council of the state was massively empowered to help youths all over the state and many young people were appointed into notable political positions. Some of his other achievements while in office include building roads, recreational centres and stadiums in the three senatorial districts of the state, and setting up a University of Education. The Gateway International Stadium was a site of the 2009 FIFA U-17 World Cup which was held in Nigeria.
In February 2009, Daniel authorised reduction of fees at the State-owned Moshood Abiola Polytechnic to ₦7,000. This followed negotiations with the National Association of Nigerian Students after parents and students had protested recent increases to fees.
ALLEGATIONS AND TRIAL AFTER HANDING OVER
On Wednesday, 12 October 2011, Gbenga Daniel was first arraigned by the EFCC (The nation's anti graft agency) on a 13 count charges claiming that 58 billion naira was involved. Justice Olarenwaju Mabekoje stroked out the charges and released Daniel on technical basis saying that the charges were not supported with factual documents. The Justice however advised that they should reapply after they must have done their home work well.
The EFCC claimed that they would not relent on their effort to get him tried and that he was not discharged but released on technical basis since their findings were not deeply rooted with facts. By the time EFCC finished their re application for trial process, the count charges had increased but the huge 58 billion naira had been reduced to 200 million naira.
After EFCC reapplied, Daniel was again arraigned on Monday 16 April 2012 by the EFCC on a 38 count charge which borders on misappropriation of fund amounting to over N200 million, criminal breach of trust and abuse of office while he held sway as governor of Ogun State. He was however granted bail and the trial has since commenced.
The trial is still on in the court of Law with Gbenga Daniel having the upper hand as most of the allegations have not been backed with credible and strong facts and documents. The trial has experienced several adjournments with people getting tired of where it is leading to.
LIFE POST-HANDING OVER
Gbenga Daniel went back to his company Krestal Laurel and has since continued funding youth development initiatives within Ogun State. He founded The Political Academy; an Academy he has used to train thousands of youth teaching them about the history of the country and political process. As a result, many youths in Ogun State have become highly politically aware and interested in politics.
He has been enjoying massive support from the youths of the state. Many of which are clamouring that his trial be dropped. In a recent development, some youths came together and formed a network of young historians of Nigeria to set the right records about important historical happenings in Nigeria. The project was given the name Project Correct. They have been clamouring for the right stories to be told about Gbenga Daniel claiming that he is a good political leader who deserves honour and not trial.
RECENT POLITICAL ACTIVITIES
Gbenga Daniel returned to active politics, leaving the PDP and joined the Labour Party. His reason for joining Labour Party was to build a platform that will serve as a proper check mate for any irregularities in governance of the State. Many people in the PDP frowned at this but the masses joined him to follow the Party. Labour Party became the most dominant opposition party in the state taking over from the PDP. Series of community visits started as Daniel led campaign rallies to various towns in Ogun State towards the 2015 election.
Within months, Labour Party had become the party to beat in the state and it was believed that Gbenga Daniel was back to political prominence. The political atmosphere in Ogun State went ecstatic as every political party sat up. Series of politicking started all over the state, Ogun State politics became the talk of the whole nation. Everywhere he went for rally, mammoth crowd always gather to declare their support. It was becoming glaring that Labour Party might win the election for 2015. While skeptic analysis said it was an act of desperation for him to have left PDP for Labour Party but majority of the people of Ogun State didn't care, they started declaring their support for him. He became the voice of the masses speaking against unhealthy projects of the state government.
It became a national news when the capital city of Ogun State known as Abeokuta was full of many thousands of people to attend the commissioning of the Party Secreatariat, a building donated to the Party by Gbenga Daniel.
RETURN TO PDP
After much deliberations and reconciliation meetings orchestrated by the National Leadership of PDP, Gbenga Daniel returned to PDP in October 2014. He also declared his intention to run for the Senate which became a heavy news all over the State. He came back to PDP with massive supporters from the Labour Party which became a big boost for the PDP.
IBIKUNLE AMOSUN (born 25 January 1958) is a Nigerian politician who was elected senator for the Ogun Central district of Ogun State, Nigeria in April 2003. In April 2007 he made an unsuccessful bid to be elected governor of Ogun State. He ran for governor again in 2011, and this time was elected on the Action Congress of Nigeria (ACN) platform.He ran for office for the 2nd Term under the All Progressives Congress in 2015 and was re-elected and sworn into office May 29, 2015.
SENATOR FOR OGUN CENTRAL In office May 29, 2003 – May 29, 2007 Preceded by Femi Okurounmu Succeeded by Iyabo Obasanjo-Bello
SENATOR FOR OGUN CENTRAL Incumbent Assumed office May 29, 2019 Preceded by Lanre Tejuoso
GOVERNOR OF OGUN STATE In office May 29, 2011 – May 29, 2019 Preceded by Gbenga Daniel Succeeded by Dapo Abiodun
PERSONAL DETAILS
Born: 25 January 1958 (age 62)
Political party
All Progressives Congress (APC)
BACKGROUND
Amosun was born on 25 January, 1958 to a Muslim family. He attended primary school at African Church Primary school in Abeokuta (1965–1970), and then African Church Grammar school, Abeokuta (1971 – 1977). He then went to Ogun State Polytechnic, graduating with a Higher National Diploma (HND) in 1983. Amosun gained an Associate membership of the Institute of Chartered Accountants of Nigeria (ICAN) in 1990. He became a fellow of the Institute in 1996. He also became an Associate member of the Chartered Institute of Taxation of Nigeria (1998).
Amosun began his career as an audit trainee with Lanre Aremu & Co. (Chartered Accountants) 1984. Later he joined XtraEdge Consulting as a managing consultant. From 1990, he was Principal partner of Ibikunle Amosun & Co. (Chartered Accountants) in Lagos. Amosun went to the University of Westminster in London, United Kingdom, where he acquired a Master of Arts in International Finance in 2000.
POLITICAL CAREER
In April 2003, Ibikunle Amosun was elected to the senatorial seat of Ogun Central Senatorial district.[3] He was an unsuccessful candidate to become Governor of Ogun State in April 2007, running on the All Nigeria People's Party (ANPP) platform, but was defeated by Gbenga Daniel. He disputed the result, but in August 2009 the Ogun State Election Petitions Tribunal dismissed the petition.
Amosun was the candidate of the Action Congress of Nigeria (ACN) for April 2011 Ogun State gubernatorial election. A report in the Nigerian Tribune on 12 February, 2011 quoted his media aide as saying he had switched to the Congress for Progressive Change (CPC), but this was denied by ACN officials. Amosun won the 26 April election running on the ACN platform with 377,489 votes. Adetunji Olurin of the People's Democratic Party (PDP) polled 188,698 votes and Gboyega Isiaka of the PPN came third with 137,051 votes.
In 2015, Amosun stood for a second term as governor. He chose, Yetunde Onanuga, as his running mate of the state governor. He had to find a new running mate as his previous deputy governor had defected to an opposition party. Amosun chose Onanuga who had been working in the Lagos State Ministry of Environment over three other possible candidates. On the 29th of May, 2019, Amosun handed over to his successor, Dapo Abiodun after completing the constitutional maximum two terms of eight years as a governor. However he was elected as the senator for the Ogun central senatorial district at the National Assembly.
CONTROVERSY
On June 24, 2019 Premium Times reported in an exclusive story that Ibikunle Amosun illegally purchased and imported four million rounds of ammunition, 1,000 units of AK47 assault rifles, 1,000 units of bulletproof vests and an armoured personnel carrier (APC) into Nigeria as the Governor of Ogun State without obtaining necessary approvals from the Office of the National Security Adviser and in violation of the Nigeria Firearms Act. The report generated lots of reactions from Nigerians with civil society organisations, citizens across the country and Ogun State chapter of his political party calling for his immediate arrest.
In a reaction to the report, Ibikunle Amosun stated that he got necessary approval for the arms and ammunitions he imported as well as the end-user certificate from the office of the National Security Adviser, stating that it is a common practice by Governors in Nigeria to have an armoury. In a swift response, twenty State Governors in Nigeria denied having an armoury in the Government Office or House.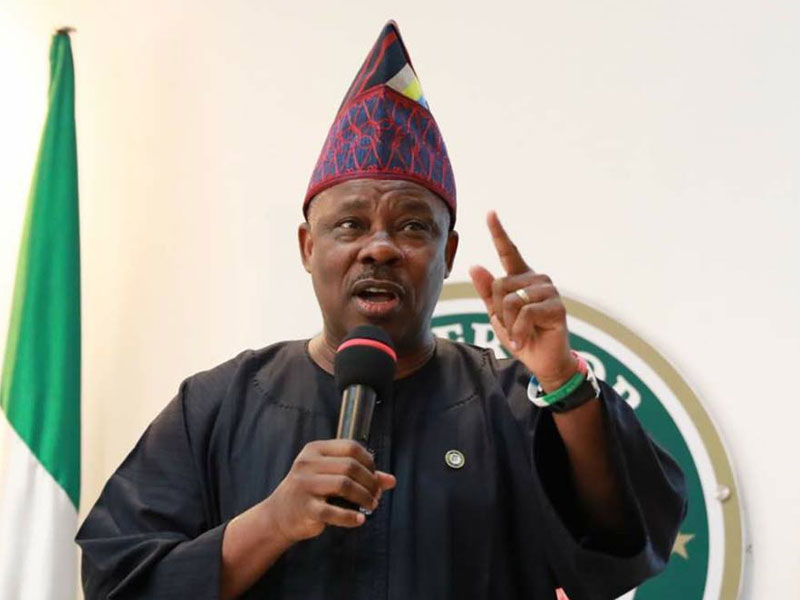 In a reaction to the claim of Ibikunle Amosun, the Nigerian Government via the Budget Office of the Federation stated that Amosun only got approval for the importation of Armoured Personnel Carrier and not that of AK-47 rifles and ammunitions. In another exclusive report by Premium Times showing documents from the offices of National Security Adviser, the Nigeria Customs Service, Federal Ministry of Finance and Ogun State Government, Premium Times reported that Ibikunle Amosun did not get approval for the ammunitions and weapons he brought into Nigeria.
AWARDS AND HONOURS
His leadership qualities and outstanding achievements have earned him recognition nationally and internationally, some of these include:
In October 2012, he was awarded as the Best Security Conscious State Governor in West Africa by Security Watch Africa in Accra, Ghana. The award was presented by the Chairperson, Board of Trustees, Security Watch Africa, Dr Theresa Oppory Beeko.
In September 2013, he received the Investment Development Icon Award for 2013 from African Leadership magazine in New York.
In November 2013, Businessday Newspaper in Lagos honoured him with the Good Governor Award as the governor of the fastest growing state economy.
In September 2014, President Goodluck Ebele Jonathan conferred on him the National Honour Award as the Commander of the Order of the Niger (C.O.N).
He bagged the Governor of the Year award for 2016 for his outstanding achievement in leadership and infrastructural development. The award was conferred on him by the Nigeria Union of Journalists (N.U.J) President, Abdulwaheed Odusile at the Award Night and Investiture of the Governor of the Year to mark N.U.J. at sixty-two.
DAPO ABIODUN (born 29 May 1960) is a Nigerian businessman and politician, who is the Governor of Ogun State after winning the 2019 general elections under the platform of the All Progressive Congress. Dapo Abiodun was the board Chairman of the Corporate Affairs Commission. He is the managing director of Heyden Petroleum and the founder of First Power Limited. On 10 March 2019, he was declared Governor-Elect of Ogun State by the Independent National Electoral Commission.
GOVERNOR OF OGUN STATE
Incumbent
Assumed office
29 May 2019
Preceded by Ibikunle Amosun
PERSONAL DETAILS
Born 29 May 1960 (age 59)
Iperu Remo, Ogun State, Nigeria
POLITICAL PARTY: All Progressives Congress (APC)
SPOUSE(s): Bamidele Abiodun
He was sworn in as Governor of Ogun State on 29 May 2019.
EARLY LIFE
Abiodun was born on 29 May 1960 in Iperu Remo, Ogun State, to the royal family of Iperu. [4] He was born into the family of Dr. Emmanuel Abiodun and Mrs. Victoria Abiodun from Iperu Remo, in Ogun East senatorial district.
EDUCATION
Abiodun studied civil engineering at the Obafemi Awolowo University Ife, Osun State and then accounting at Kennesaw State University, Atlanta Georgia. He also holds an honours and doctorate degree in finance from Ekiti State University, Ado Ekiti, Ekiti State and another in business administration from Adeleke University, Ede, Osun State.
He was involved in a certificate scandal in the buildup to the 2019 general elections when he claimed in the 2015 senatorial election form for Ogun East to have graduated from Obafemi Awolowo University, but in the 2019 governorship form, he claimed to possess only secondary school certificate of education.
CAREER
He is the managing director/CEO of the Nigerian oil and gas company Heyden Petroleum Ltd (HPL). He is also reportedly the founder of First Power Limited.
POLITICS
Abiodun is a founding member of Peoples Democratic Party (PDP) in Ogun State, although he is currently a member of the All Progressive Congress (APC) defecting after the 2015 general elections. He contested the Ogun East senatorial seat on the platform of the All Progressive Congress (APC) in the 2015 Nigerian general elections which he lost to the Peoples Democratic Party (PDP) candidate. He was elected a senator of the Federal Republic of Nigeria on the platform of the defunct United Nigeria Congress Party (UNCP) in 1998. He has served as a member of various presidential committees and organisations.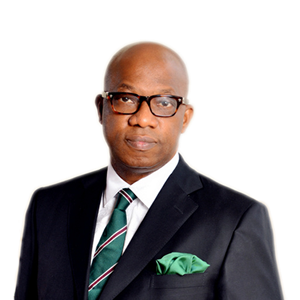 In 2019, he contested in the gubernatorial elections in Ogun state and won, under the platform of the All Progressive Congress (APC).
He is a born again Christian and worships with the Mountain of Fire and Miracle Ministry. He has testified that despite much opposition to him getting into the office of Ogun state governor God still got him there.
PRIVATE LIFE
He is married to Bamidele Abiodun and they have had five children.
LIST OF OGUN STATE ADMINISTRATORS
1. Colonel Daniel Akintonde was appointed Military Governor of Ogun State, Nigeria from December 1993 to August 1996 during the military regime of General Sani Abacha.
ADMINISTRATOR OF OGUN STATE
In office
9 December 1993 – 22 August 1996
Preceded by Olusegun Osoba
Succeeded by Sam Ewang
In 1994 Akintonde renamed the Ogun State College of Education to the Tai Solarin College of Education in honor of the late doctor Tai Solarin. Akintonde was among those arrested for involvement in the December 1997 alleged coup. He was cleared of the charges on 20 April 1998.
He was retired from the military in June 1999, along with all officers who had served as ministers, governors or administrators during the Babangida, Abacha and Abubakar regimes. In August 1999 the Ogun State House of Assembly summoned Akintonde to answer questions about some contracts awarded during his tenure. Reporters were barred from the hearing.
2. Group Captain SAM EWANG (born 1952) was Military Administrator of Ogun State, Nigeria from August 1996 to August 1998 during the military regime of General Sani Abacha, and then Administrator of Rivers State until May 1999 handing over power to the elected governor Peter Odili at the start of the Nigerian Fourth Republic.
Ewang ran for governor of Akwa Ibom in April 2007 on the All Nigeria People's Party (ANPP) platform. After the election he accused the People's Democratic Party PDP and Independent National Electoral Commission (INEC) of rigging the results.In November 2007, the ANPP declared that the purported suspension of Ewang, its governorship candidate for Akwa Ibom State in the 2007 general elections, was illegal.
In a June 2009 interview, Ewang held the present government of Akwa Ibom responsible for the recent spate of kidnappings, robbery and hired killings, accusing government agents of being involved. In February 2010, Chris Nyong Ekong, former commissioner for youths and sports in Akwa Ibom, was arraigned for kidnap, conspiracy and murder. There had been a series of recent kidnappings. Ewang alleged that prominent Ibibio people were being targeted.
Ewang is one of the leaders of the National Democratic Movement (NDM). In January 2010, the NDM was involved in talks with the "mega party" being planned by Mohammadu Buhari, Atiku Abubakar, Olu Falae, Bola Tinubu and Anthony Enahoro, with the purpose of defining a common platform to oppose the PDP. Ewang was appointed to an integration committee that also included Olu Falae, Balarabe Musa, Pat Utomi and Arthur Nwakwo, charged with ensuring the full coalition of all the parties and eminent stakeholders.
3. KAYODE OLOFIN-MOYIN
ADMINISTRATOR OF OGUN STATE In office 22 August 1998 – August 1999 Preceded by Sam Ewang Succeeded by Olusegun Osoba
EARLY LIFE Navy Captain Kayode Olofin-moyin was born in Ilawe-Ekiti, Ekiti State, on May 13, 1950.
EDUCATION
After his elementary education, he enrolled at the Annunciation Catholic School, Ikere-Ekiti in 1965. He passed out in 1969 with the West African School Certificate in flying colours.
He was admitted into the Nigerian Defence Academy in 1971 as a cadet and successfully completed his course in December 1972 and got commissioned into the Nigerian Navy. Thereafter, in quick succession, he went through further trainings. He had hardly left the Nigerian Defence Academy in December 1972, when he started a course in Midshipman onboard NNS OBUMA (formerly NNS NIGERIA). He completed his training in October 1973
MILITARY CAREER
An officer whose thirst for knowledge could be described as insatiable, Navy Captain Olofin-Moyin proceeded to the prestigious Command and Staff College, Jaji in 1985, graduated in 1986. He later attended the National War College, Abuja, between 1997 and 1998.
Navy Captain Olofin-Moyin rose steadily in his chosen career. From a Cadet in 1972, he was promoted Midshipman in 1973; Sub-Lieutenant (1973 – 1977); Lieutenant (1977 – 1981); Lieutenant Commander (1981 – 1988); Commander (1988 – 1994) and Navy Captain (1994)
Some of his Command appointments were, Commanding Officer, NNS HADEJIA (Patrol Boat), (1978 – 1979); Commanding Officer, NNS RUWAN YARO (Cadets Training Ship), (1984 – 1985); Commanding Officer, NNS ENYIMIRI (A Corvette on ECOMOG Operation), Liberia, (1992 – 1993) and Commanding Officer, Naval Air Station, (1996 – 1997).
Navy Captain Olofin-Moyin also held Staff appointments such as Staff Officer (Operation), Western Naval Command (1986 – 1988); Base Commander, Nigerian Naval College, Onura, Port Hacourt (1990 – 1992); Naval Chief Officer, ECOMOG, Liberia (1994 – 1995) and Director of Operations, Naval Headquarters, Lagos (1995 – 1996).
OGUN STATE ADMINISTRATOR
Navy Captain Kayode Olofin-Moyin was appointed Military Administrator of Ogun State, Nigeria from August 1998 to May 1999 during the transitional regime of General Abdulsalami Abubakar, handing over power to the elected governor Olusegun Osoba at the start of the Nigerian Fourth Republic. He built a new Governors Lodge for Ogun State, opened on 27 April 1999 just before the handover to the civilian governor.
In November 2002 his house in Victoria Island, Lagos was gutted and destroyed by fire.