Colonel (retired) Mohammed Inua Bawa (6 April 1954 – 26 May 2017) was appointed the Administrator of Ekiti State, Nigeria during the military regime of General Sani Abacha. He was then appointed Administrator of Gombe State from August 1998 to May 1999, handing over to the elected civilian governor at the start of the Nigerian Fourth Republic.
Bawa was born on 6 April 1954 in Yauri, Kebbi State. He studied at Government Colleges in Keffi and Bida, then attended the Ahmadu Bello University, Zaria after which he studied at the University of Madras, India. Joining the army, he was commissioned as second lieutenant in 1976, full lieutenant in 1980, captain in 1985 and major in 1990.
Bawa was appointed the Administrator of Ekiti State after it was formed in October 1996 from part of Ondo State. After the death of General Sani Abacha, his successor General AbdulsalamiAbubakar transferred him to Gombe State during the transition to democracy that was completed in May 1999. As administrator of Gombe State, he initiated joint border patrols with neighboring Chad and Niger to reduce cross border banditry.
He ran unsuccessfully as candidate for Governor of Kebbi State on the Action Congress (AC) platform in the April 2007 elections.Bawa died in hospital in Jos, Nigeria on 26 May 2017 due to complications from surgery. He was 63
Navy Captain (retired) Musbau Atanda Yusuf was appointed the Administrator of Ekiti State, Nigeria during the transitional regime of General AbdulsalamiAbubakar, handing over to the elected civilian governor at the start of the Nigerian Fourth Republic on 29 May 1999.[1]
During his tenure he constructed the complex housing the Ekiti State House of Assembly, inaugurated on June 1, 1999 by his elected civilian successor OtunbaNiyi Adebayo.[2] He assisted Sikiru Tae Lawal in creating peace in Ikere-Ekiti, which had been racked by communal strife.[3] Yusuf was required to retire in June 1999, as were all former military administratorS.
Niyi Adebayo (born February 4th 1958) is a Nigerian politician and traditional aristocrat. He served as the first Executive Governor of Ekiti State from May 29, 1999 to May 29, 2003 and represents the Alliance for Democracy (AD). Adebayo has been associated with APC, and he is currently a top chieftain of the All Progressives Congress, APC,Niyi has extensive experience in a wide range of disputes & legal and advisory work. His more notable achievements have been in the areas of project finance, oil and gas, contract procurement and business facilitation. He is a member of Nigerian Bar Association (NBA) and the International Bar Association (IBA). Niyi is a keen sportsman and plays tennis, squash and football.
He holds the chieftaincy title of Otunba.
Niyi and Education
He attended University of Lagos where he studied Law and obtained (LL.B Hons).
Peter Ayodele Fayose (born 15 November 1960) is a Nigerian politician and the former governor of Ekiti State.
Early Life
Fayose grew up in Oyo State where he attended Olivet Baptist High School, Oyo. In 1985, Fayose was admitted to a Higher National Diploma (HND) programme in Biological Sciences/Applied Medical/Biology by The Polytechnic, Ibadan and graduated in 1987. While doing his National Youth Service Corps program at Pepsi Nigeria Limited, Ibadan, he was engaged in installation, maintenance and servicing of medical and laboratory equipment.
He is married to Feyisetan. He conducted one of the most sought after medical outreach programmes during his political campaign in 2001.
Political Career
Fayose became the second governor of Ekiti on 29 May, 2003, after defeating the incumbent Governor, Niyi Adebayo in the gubernatorial elections. Fayose could not complete his tenure as a result of an impeachment on 16 October, 2006.
During the 2014 Governorship election in Ekiti State, Fayose was again the PDP nominee. He won the election and was declared by the Independent National Electoral Commission as the new Governor of Ekiti State; he was inaugurated on 16 Of October, 2014. Fayose is now the only Nigerian to defeat an incumbent two times.
Fayose has publicly declared his intentions to run for president in Nigerian general election, 2019. His party, The Peoples Democratic Party, PDP, admonished him against the ambition to be the party's presidential candidate in 2019. Fayose later dropped his ambition.
Allegation of vote rigging
An army intelligence officer, Captain SagirKoli of the Nigerian Army 32nd Artillery Brigade, secretly recorded a vote-rigging plan on June 20th, 2014 when he was asked to accompany his then commanding Officer, Brigadier General AliyuMomoh, to a meeting at Spotless Hotel in Ado-Ekiti, Ekiti State.
The 37-minute audio recording was attended by the eventual "winner" of the election, Governor Ayodele Fayose of Ekiti State; Senator Iyiola Omisore of Osun State; a member of the National Assembly Abdul Kareem; the Minister for Police Affairs Alhaji Jelili Adesiyan; the former Minister for Police Affairs and navy captain Caleb Olubolade; the Minister of State for Defense Senator Musiliu Obanikoro and PDP Anambra chieftain and failed senate candidate Chris Uba, as they bribed army Brigadier General Momoh with a rank promotion for his assistance in carrying out election fraud in Ekiti State.
For exposing the vote-rigging of the Ekiti State governor election of Fayose, Captain SagirKoli was praised by the military for his "non-partisanship and professional conduct during the election period."
Bank accounts blocked by EFCC
The Economic and Financial Crimes Commission froze four Zenith Bank accounts used by Fayose to launder money for his Ekiti governorship election in 2014 in a lawsuit no. FHC/CS?871/2016 titled "Federal Republic of Nigeria Vs Zenith bank PLC account numbers 1003126654, 9013074033, 1010170969 and 1013835889."
The judge Justice Mohammed Idris had granted the EFCC on June 24th, 2016 an order to freeze all the funds in the said accounts in Zenith Bank. Two accounts belong to Governor Ayo Fayose while the third belongs to his hotel Spotless Hotel in Ado Ekiti. The fourth account was operated by one of Fayose's aides, AbiodunAgbele, who is under EFCC custody.
The EFCC had alleged that those accounts possessed funds, said to be about N4.7 billion (US$20mn) stolen from the office of the National Security Adviser, with most of the money secretly retained by Fayose for his personal use after the election.
Challenged Aisha BuhariTo Travel To USA
On June 22, 2016, Fayose had claimed that Aisha Buhari, the wife of the Nigerian president Muhammadu Buhari was the same person (who had claimed to be a daughter of General Muhammadu Buhari) indicted by a US Court for transferring $170,000 to indicted US Congressman, Williams Jefferson, in the William J. Jefferson corruption case involving Halliburton and that she was avoiding arrest by US authorities by failing to accompany her husband on his three presidential visits to the United States.
However, when Aisha Buhari travelled to Washington DC in August 4th, 2016,Fayose subsequently claimed that her US visit did not invalidate the Haliburton judgement against her, saying "Has traveling to the US invalidated the judgment that said Aisha Buhari transferred $170,000 to Jefferson's account? "Has traveling to the US erased the fact that Aisha Buhari transferred $170,000 to Williams Jefferson?
Adetunji Idowu Ishola Olurinmni (Yoruba: Adétúnjí Ìdòwú Ìṣọ̀lá Olúrìn; born December 3, 1944) is a retired one-star general in the Nigerian Army who was a former military Governor of Oyo State and Field Commander of ECOMOG Peacekeeping Force in Liberia from 1992 to 1993 during the First Liberian Civil War. Olurin retired from service in 1993 and he is a member of People's Democratic Party (PDP) in Nigeria. He was administrator of Ekiti State from October 8, 2006 until April 27, 2007.
Birth and Education
TunjiOlurin was born at Ilaro to the Chief M.A.O. Olurin, the Agoro of Ilaro, and Madam Abigail FolaOlurin. He was educated at Egbado College (now Yewa College), and attended the Technical College, Ibadan (now Ibadan Polytechnic) in 1966. He became a trainee at the Times Press in Apapa, Lagos. In 1967 he entered the Nigerian Defence Academy (NDA), Kaduna, where he obtained his NDA Certificate of Education. He attended many professional courses during his army career. He is a graduate of the School of Infantry, Quetta, Pakistan, the Command and Staff College, Jaji, Kaduna and the National Institute for Policy and Strategic Studies, Kuru, Jos.
Military Career
Olurin enrolled into the Nigerian Army in 1967 as an officer cadet of the 3rd Regular Course where he obtained his NDACE (Nigerian Defence Academic of Education) and was commissioned a Second Lieutenant in the Nigerian Army in March, 1970. He became the Brigade Battalionin Kainji in 1973 and was the Deputy Assistant Quartermaster General of the Nigerian Defence Academy, Kaduna.
He was Deputy Defence Adviser to the Nigerian High Commission in India (1975–1978) with the rank of major. After attending Staff College in 1978, he was deployed to the United Nations Peace Keeping Operation in Lebanon, where he commanded the Nigerian troops in the United Nations Interim Force in Lebanon (UNIFIL). His battalion was deployed between the Palestinian and Israeli forces. In 1981, as General Staff Officer Operations at Army Headquarters, he mobilized the OAU peacekeeping force in Chad. This force included troops from Nigeria, Senegal, Kenya and Zaire. Also in 1981, he conducted operations in Kano to suppress rebels led by religious fundamentalist.
At the time of the August 1985 coup, when Major General Muhammadu Buhari was deposed and replaced by Brigadier Ibrahim Babangida, Lt. Col. TunjiOlurin was Commander of the 1st Mechanized Brigade, Minna. He was "aware" but not "active" in the coup. After the coup, he was appointed the Military Governor of Oyo State (1985–1988). During his tenure as governor, he was a member of the National Council of States. In 1987 he set up a committee that in 1988 recommended establishment of what became the LadokeAkintola University of Technology.
In 1990, Olurin became the General officer commanding the 3rd Armoured Division in Jos and a member of the Armed Forces Ruling Council. He served as a Field Commander in the ECOMOG Peacekeeping Force in Liberia from December 1992 to September 1993, when he was relieved by Brigadier General John Nanzip Shagaya. He used his trusted relationship with the Nigerian head of state, General Ibrahim Babangida, to obtain more troops for the mission, and by January 1993 had 16,000 troops under his command of whom 12,000 were Nigerian. Olurin was determined to force Charles Taylor onto the defensive. His aggressive tactics were militarily successful, forcing the NPFL to open negotiations by July 1993, although he was accused of showing favoritism to certain Liberian political groups.
Later Career
On March 9, 2002, TunjiOlurin was elected as the President of the Yewa Group (YG), formed to develop Yewaland in Ogun State.
On 26 September 2006 the Ekiti State House of Assembly impeached the governor, Ayodele Fayose and his deputy Abiodun Christine Olujimi, alleging gross misconduct. On October 19, 2006, President Olusegun Obasanjo declared a State of Emergency in Ekiti State and suspended the governor, deputy governor and House of Assembly of the state. He appointed Tunji Olurin, as "Sole Administrator" on Ekiti State. The State of Emergency was ratified by the National Assembly on October 26. Soon after being appointed, Olurin dissolved the local government councils, who were under investigation by the Economic and Financial Crimes Commission (EFCC) for allegedly misappropriating of about 7.3 billion naira.
In March 2007, Tunji Olurin ordered the Ekiti State radio and television stations not to broadcast programs of the Action Congress (AC) candidate for the state governorship, Kayode Fayemi, while allowing broadcasts by the PDP. Olurin remained in charge until he was replaced by Tope Ademiluyi on April 27, 2007. He has since remained in political oblivion following his loss at the Ogun State Governorship Election in 2011.
Awards and Honours
Olurin has lectured on peacekeeping at the International Peace Academy, the National War College, and United Nations seminars in Ghana, Nigeria, and Senegal. In 2006, he was appointed the Chancellor of the First University of Education in Nigeria, TASUED by Governor Gbenga Daniel of Ogun State.
Olurin has been the recipient of many honours including the United Nations Peace Medal and the Knight Commander of the Humane Order of African Redemption (KCHOAR), Liberia's highest national honour award. He is an honorary paramount chief of the Republic of Liberia.
Adetope Ademiluyi (born August 23, 1965) is a Nigerian politician from Aramoko-Ekiti, Ekiti-West, Ekiti State. He assumed the position of acting governor in Ekiti State on April 27, 2007, and succeeded Tunji Olurin, the previous acting governor.Ademiluyi held that position until 29 May 2007, when Olusegun Oni took office. Adetope Ademiluyi formerly of the People's Democratic Party is now a member of the All Progressives Congress Party.
Olusegun Oni, also known as Segun Oni, is a Nigerian politician and a former Governor of Ekiti State between May 29, 2007 and October 14, 2010. He was a member of the ruling People's Democratic Party (PDP). In 2014 he defected from the PDP and joined the newly formed opposition party All Progressive Congress (APC). He currently holds the position of Deputy National Chairman South
Birth and education
Olusegun Oni was born at Ifaki, Ekiti State on 5 September 1954. He attended the Methodist Secondary Modern School, Ifaki Ekiti (1965–1968) and Wesley College, Ibadan (1969–1971). He took a post at the Community Secondary Modern School, Ido Ekiti, from January 1972 to July 1973, then moved to Ayetoro-Iloro High School, Ayetoro/Iloro Ekiti, moving to the University of Ife in September, 1974.
Segun became a corporate member, Nigerian Society of Engineers in 1987. In 1988, he became a COREN registered Engineer. He was Treasurer, Lagos State Chapter of the Nigerian Society of Chemical Engineers (1986–1988). Segun Oni was a foundation member of the United Nigeria Congress Party (UNCP) in Ekiti.
Governor of Ekiti State
Olusegun Oni was elected governor of Ekiti State in April 2007 on the PDP platform. He was removed from office on 15 October 2010 following the Judgement of an Appeal Court which ruled against him.
Election controversy
Oni's election as governor has been contentious with his main opponent in the 2007 general election, Dr. Kayode Fayemi challenging his victory at the Election Petition Tribunal in Ekiti State.
Segun Oni was briefly thrown out of office after the court of appeal upturned the decision of a lower court after the April 2007 general election. In Ekiti State, effort to get a governor at a point during his tenure using the re-run election of 2009 was "marked by violence and intimidation since the man elected back in 2007, Segun Oni, was thrown out of office after massive vote-rigging emerged".
Apart from violence, adding to the controversy was the conduct of the electoral commissioner who initially refused to announce the results of the re-run election. "The electoral commissioner was supposed to announce poll results last week after the initial re-run but refused to do so, alleging fraud, and temporarily went into hiding". The result of the re-run election was also challenged by his arch-rival, Dr. Kayode Fayemi at the Ekiti State re-Constituted Election Petition Tribunal.
In May 2010, Oni won by a split decision (3:2) at the election petition tribunal. "The Election Petition Tribunal sitting in Ado-Ekiti, the Ekiti State capital, upheld the election of incumbent Governor Segun Oni, thereby dismissing the petition filed by the Action Congress (AC) Governorship candidate, Dr. Kayode Fayemi". The "Majority ruling declares Oni winner with 109,000 to Dr. Kayode Fayemi's 106,000 after deductions of unlawful votes were made". ruling opposed this by upholding that "We hold that the Petitioners have duly and dutifully proved their case". Two judges supported the minority judgement while three judges endorsed the majority ruling. He was removed from office on 15 October following the Judgement of the Appeal Court which ruled against him in favour of his opponent Kayode Fayemi.
Personal Life
Oni is married to OlukemiAdetola (née Ogunsiji) and they have two children, a girl and a boy.
John Olukayode Fayemi, (born 9 February 1965) is the Governor of Ekiti State and a native of Isan-Ekiti in Oye Local Government of Ekiti State, Nigeria. He previously held the office of the Governor of Ekiti State between 2010 and 2014. He resigned as the Minister of Solid Minerals Development on 30 May 2018 to contest for the Ekiti State governorship election for the second time, an election perceived to be a battle between himself and his political rival, Fayose.
Education
Fayemi attended Christ's School Ado Ekiti from 1975-1980 and received degrees in History, Politics and International Relations from the Universities of Lagos and Ife now Obafemi Awolowo University in Nigeria and his Doctorate in War Studies from the King's College, University of London, England, specializing in civil-military relations.
Academic and Political Initiatives
Kayode Fayemi is a former Director of the Centre for Democracy & Development, a research and training institution dedicated to the study and promotion of democratic development, peace-building and human security in Africa. Prior to his establishment of the Centre, he worked as a lecturer, journalist, researcher and Strategy Development adviser in Nigeria and the United Kingdom. He was Strategy Development Adviser at London's City Challenge; research fellow at the African Research & Information Bureau in London, UK, reporter with the newspapers, The Guardian and City Tempo, editor of the political monthly, Nigeria-Now, management consultant at Development and Management Consultants and lecturer at the Police College in Sokoto, Nigeria.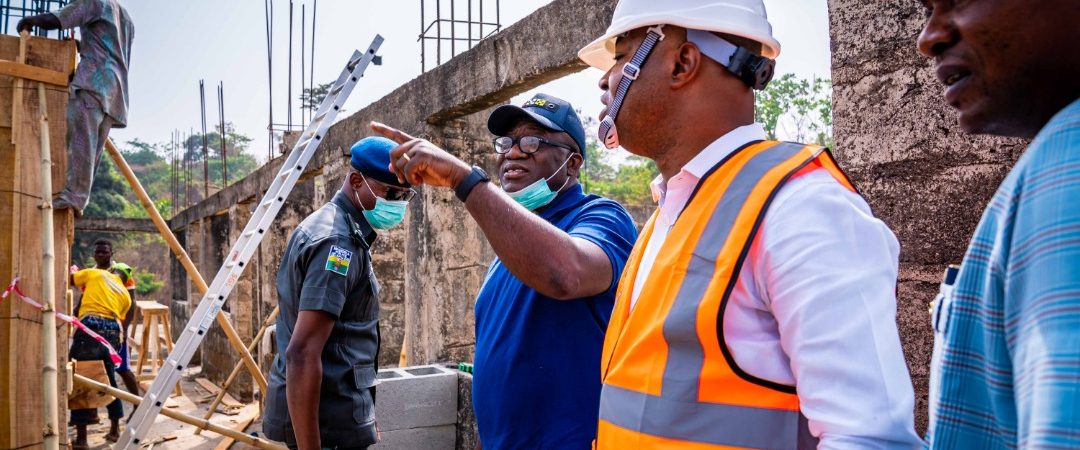 Kayode Fayemi has lectured in Africa, Europe, the Americas and Asia. He has also served as an adviser on transitional justice, regional integration, constitutionalism, security sector reform and civil-military relations issues to various governments, inter-governmental institutions and development agencies. He was the main technical adviser to Nigeria's Human Rights Violations Investigation Commission (Oputa Panel), which investigated past abuses and served on the Presidential Implementation Committees on Security Sector Reform, NEPAD and the Millennium Development Goals. He was technical expert to the Economic Community of West African States (ECOWAS) on small arms and light weapons and United Nations Economic Commission for Africa on governance issues. He is also a member, Africa Policy Advisory Panel of the British Government.. At other times he has served as a consultant to the OECD on Security Sector Reform and chaired the Commonwealth Human Rights Initiative's Committee of Experts on developing guiding principles and mechanisms of constitution making in Commonwealth Africa.
Kayode Fayemi is a Fellow of the Centre for Peace and Conflict Studies, University of Ibadan, Adjunct Professor of Security Studies at the African Centre for Strategic Studies, National Defense University, Fort McNair, Washington, D.C., USA. He was also a Visiting Professor in the African Studies Programme at Northwestern University, Evanston, USA in 2004. DrFayemi serves on numerous Boards including the Governing Board of the Open Society Justice Institute, Baobab for Women's Human Rights, African Security Sector Network, and on the Advisory Board of the Global Facilitation Network on Security Sector Reform and on the Management Culture Board of the ECOWAS Secretariat.
Writings
Fayemi has written on governance and democratization, civil-military relations and security sector issues in Africa. Among his recent books are: Deepening the Culture of Constitutionalism: The Role of Regional Institutions in Constitutional Development in Africa (CDD, 2003), Security Sector Governance in Africa: A Handbook (edited with Nicole Ball, CDD, 2004) and Out of the Shadows: Exile and the Struggle for Freedom and Democracy in Nigeria (CDD, 2005).
Campaign for Ekiti State Governor
After three and a half years fighting through the legal system, on 15 October 2010 the appeal court sitting in Kwara state declared Fayemi the duly elected Governor of Ekiti State, and marked the end of Olusegun Oni's administration as the then Governor of the state. Daily Trust, a national daily, captured the electoral journey in its editorial, published on Friday, 22 October 2010 under the title, Closure to Ekiti 2007 Governorship Saga. The Ekiti State Governor, Dr. Kayode Fayemi was on Saturday 14 April 2014 endorsed as the governorship candidates of the All Progressives Congress in the state's gubernatorial elections slated for 21 June 2014. The emergence of the Fayemi was preceded by congress held before the governor who had no contestant was endorsed as the flag bearers of their state in the governorship elections. Kayode Fayemi was defeated at the polls on 21 June 2014 by previous governor Ayodele Fayose.
Fayemi recontested for second term as Ekiti state governor under the platform of the All Progressive Congress in the 14 July, 2018 governorship election after resigning as the Minister of Solid Minerals Development. He was officially declared as the winner of the Governorship election in Ekiti state by the Independent National Electoral Commission on 15 July 2018. He won by 19,345 votes against the Peoples Democratic Party's Kolapo Olusola Eleka who was second. He was officially sworn-in as Ekiti State governor for the second time, on 16 October 2018, at the Ekiti Parapo Pavilion, Ado Ekiti.
Ekiti State Governor, Dr. Kayode Fayemi has been elected Chairman of the Nigeria Governors' Forum, NGF. This announcement was made by the immediate past chairman, Abdulaziz Yari on Wednesday evening. He said Fayemi was unanimously elected by the governors to lead the forum till 2021.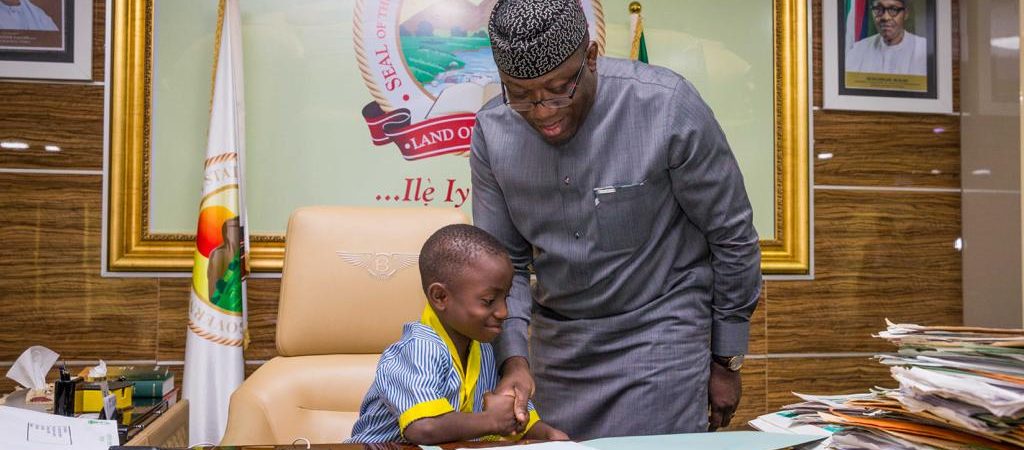 Professional history
2018 – Governor Ekiti State 2019 – Chairman Nigeria Governors Forum
2015- 2018- Minister Of Solid Minerals Development Federal Republic Of Nigeria.
2010–2014 — Governor, Ekiti State
1997–2006 — Director, Centre for Democracy & Development
1995–1997 — Secretary General, Media Empowerment for Africa (The Radio Foundation)
1993–1995 — Strategy Development Adviser, Deptford City Challenge, London, UK
1991–1993 — Research Officer, African Research and Information Bureau, London, UK.
1992–1992 — Tutorial Fellow, War Studies Department, King's College, London, UK
1987–1989 — Research Officer, Development & Management Consultants, Ikeja. Lagos-Nigeria.
1985–1986 — Lecturer, Nigeria-Police Training College, Sokoto – Nigeria