John Ewerekumoh Yeri was a Nigerian soldier who served as Governor of Bendel State between 1990 and 1991, and then continued as governor of Edo State until January 1992 after Bendel State was split into Edo State and Delta State. He was military governor during the administration of General Ibrahim Babangida, and handed over to an elected civilian governor in January 1992.
In a speech in December 1991, he said that the Military Administration held traditional rulers in high esteem, and expected them to enlighten their subjects about Government policies and programs at the grass root level.During his tenure, the administration made some investment in improving the roads of the state.
John OdigieOyegun (born 12 August 1939) is a Nigerian politician who served as the first national chairman of All Progressives Congress (APC) in Nigeria. He was also the Executive Governor of Edo State between 1992 and 1993, during the aborted Nigerian Third Republic.
Oyegun led then opposition APC and Muhammad Buhari to victory in 2015 after defeating ruling People's Democratic Party, PDP and President Goodluck Jonathan. It was the first time an incumbent president and a ruling party was defeated in a presidential poll in Nigeria.
Background
John OdigieOyegun was born on 12 August 1939, in Warri, Delta State to an Edo father and Urhobo mother from AgbarhaUghelli. He attended St. Patrick's College, Asaba, and then went to the University of Ibadan where he obtained a bachelor's degree in Economics. He then served in various capacities as a federal civil servant working as a development planner.
Political Career
Chief John Oyegun was elected as civilian governor of Edo State on the SDP platform, during the transition to democracy launched by General Ibrahim Babangida and served from January 1992 to November 1993. He was removed from office after General Sani Abacha seized power. Later, he became a leader of the All Nigeria Peoples Party (ANPP). In 2009 he was chairman of the Technical Working Committee of CODER.
On 13 June 2014 Odigie-Oyegun was elected as national chairman of the APC. Bola Tinubu of Lagos State, the APC national leader, is thought to have played an important role in the decision. The choice of Oyegun, from the mostly Christian south of the country, was calculated to win both Christian and Moslem votes in the challenge to President Goodluck Jonathan's People's Democratic Party (PDP). In 2017 Odigie-Oyegun came under intense criticism of various factions of the party including some powerful group of APC Governors for his handling of the party calling for his removal from office as national chairman of the party. President Muhammadu Buhari, the leader of the party and seven of its governors backed Odigie-Oyegun to remain in office. President Buhari later withdrew his support for Odigie-Oyegun when it became clear that most of the governors and other powerful members of the party were resolute in their efforts to remove Odigie-Oyegun from office and install a successor Adams Oshiomhole from same state as Odigie-Oyegun.Odigie-Oyegun stepped down from office of the National Chairman of the party by not seeking re-election for a second term in office at the 2018 elective national convention of the party leaving Adams Oshiomhole his opponent the sole candidate for the position.
Mohammed Abul-Salam Onuka was a Nigerian soldier who served as Military Administrator of Edo State between December 1993 and September 1994. He took over from the civilian governor, John OdigieOyegun, at the start of the military administration of General Sani Abacha.
Colonel Onuka made an attempt to develop the tourism potential of the scenic area of Ososo, but the effort was short-lived because of the sudden termination of the Abacha administration. From Okene in Kogi State and first cousin to the present Governor of Kogi State Yahaya Bello (APC).
Bassey Asuquo was a Nigerian soldier who served as Military Administrator of Delta State between December 1993 and September 1994, and then Edo State from September 1994 to December 1996, during the military regime of General Sani Abacha. He retired as a brigadier general.
In 2008, he was Clan Head of AnimAnkiong Clan Council of Odukpani Local Government area in Cross River State. He testified before the House Committee on Power and Steel investigating funds paid for the Calabar 561MW GT power station, saying that the project delays were caused by the contractors and were not due to resistance from the community. In September 2009 he was appointed chairman of the board of the Federal Psychiatric Hospital, Calabar.
Education
He attended Hussey College Warri.
Baba AdamuIyam was a Nigerian soldier who served as Military Administrator of Kwara State between September 1994 and August 1996, and then Edo State from August 1996 to August 1998, during the military regime of General Sani Abacha.
Group Captain Iyam reportedly sacked 8,000 Edo state workers. In February 1997, he halted all grants to the Edo State University since he considered that government ought not fund universities, and appointed a Sole Administrator for the university which he had a very good reason for.
Anthony Ibe Onyearugbulem (1955–2002) was a Nigerian navy captain who served as Military Administrator of Ondo State (August 1996 – August 1998) during the military regime of General Sani Abacha. He then became Military Administrator of Edo State in August 1998, handing over power to the civilian governor Lucky Igbinedion in May 1999.
Background
Anthony IbeOnyearugbulem was born on 9 July 1955 in OwallaAvuvu in Ikeduru, Imo State. He was educated at St. Columbia's Secondary School, Amaimo (1970–1972) and Enyiogugu High School, Mbaise (1972–1974). He joined the navy and was commissioned on July 1, 1978.
Military Administrator
Onyearugbulem served as Military Administrator of Ondo State from August 1996 to August 1998. As Administrator of Ondo state, he caused resentment among the Auga people by presenting the staff of office to the Alani of Idoani, a person said by some to have no royal blood. His administration undertook extensive roadworks in Ondo State and this is the legacy he is commonly remembered for.
He was promoted Navy Captain in July 1998 and was posted to Edo State on August 7, 1998, as the Military Administrator. He tried to make chairmanship of the council of Obas in Edo State a rotational position, an affront to the king of the ancient Benin Kingdom. In an attempt to increase voters' registration before the scheduled transition to democracy, Onyearugbulem warned that parents and guardians would have to produce their registration cards for their children to be admitted to state schools.
Later Career
He was made to retire in 1999 shortly after the advent of civilian rule, along with others who had held political appointments in the military government. In 2002, Onyearugbulem left the People's Democratic Party (PDP) and declared his intention to run in 2003 for governor of Imo State on the All Nigeria Peoples Party (ANPP) platform. Later that year, Onyearugbulem died suddenly in a hotel room in Kaduna in somewhat mysterious circumstances.
Lucky Nosakhare Igbinedion (born 13 May 1957) was the governor of Edo State in Nigeria from 29 May 1999 to 29 May 2007. He is a member of the People's Democratic Party (PDP).
Early Life and Education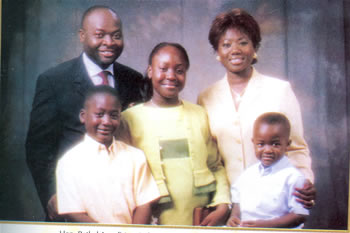 Lucky is a son of Gabriel Igbinedion, Esama of the Kingdom of Benin. He holds a BSc in marketing (1982) from the University of Wyoming in Laramie, and an MBA (1983) from Jackson State University, Mississippi, in the United States.
Career
Chief Igbinedion was appointed Mayor of Oredo Municipality (a local government area in Nigeria) in 1987 and held the position until 1989. In 1989, he was voted the Best Mayor in Nigeria and received an Award for his developmental efforts.
Lucky Nosakhare Igbinedion was elected governor of Edo State in April 1999 under PDP and was reelected in 2003. He and his deputy, Mike Oghiadomhe, held office from 29 May 1999 to 29 May 2007.
During the period of his governorship, he established the Edo State Polytechnic Usen and was elected by his colleagues as Chairman of the Nigerian Governors' Forum.
His wife, EkiIgbinedion, was active against the widespread sex trafficking of women from Edo State to Europe.
After Leaving Office
In January 2008 he was declared wanted by the Economic and Financial Crimes Commission on 142 counts of financial fraud. This concerns allegations that he embezzled US$24 million (£12m) using front companies. He handed himself over later that month. The Benin Youth Council asked for an apology for statements implying he ran away from justice.
Oserheimen Osunbor, (born 5 October 1951), is a Nigerian lawyer and politician who was a Senator of the Federal Republic of Nigeria from 29 May 1999 to 29 May 2007 and the Governor of Edo State of Nigeria from 29 May 2007 to 11 November 2008.
Early Life and Career
Oserheimen Osunbor was born on 5 October 1951 in Iruekpen, Esan West Local Government Area, Edo State, Nigeria. He attended P.T.T.C Demonstration Primary School Igueben from 1957 to 1962, then Anglican Grammar School Ujoelen Ekpoma from 1963 to 1968 and then obtained his sixth form at Holy Trinity Grammar School Sabongidaa-OraEdo State.
Senatorial Office
Professor Oserheimen Osunbor was elected Senator for the Edo Central Senatorial District of Edo State, Nigeria at the start of the Nigerian Fourth Republic, running on the People's Democratic Party (PDP) platform. He took office on 29 May 1999. After taking his seat in the Senate in June 1999 he was appointed to committees on Rules & Procedures, Ethics, Judiciary, Water Resources and Government Affairs (Chairman). Osunbor was reelected to his senate seat in April 2003. He also held Various chairmanship positions while in the Senate including: Chairman, Senate Committee on Independent National Electoral Commission (INEC); Chairman, Senate Committee on Judiciary, Human Rights and Legal Matters; Chairman, several Senate Ad-hoc Committees and National Assembly Joint Committees; Chairman, Sub-Committee on Legislature and Legislative List, National Assembly Joint Committee on Constitution Amendment. So profound was his impact that he was nicknamed "Attorney-General of the Senate" by his colleagues.
Governorship
Osunbor was elected Governor of Edo State in Nigeria in April 2007 on the People's Democratic Party (PDP) platform. On 20 March 2008, the Edo State Governorship Election Tribunal declared that Osunbor's election was invalid, and asked the Independent National Electoral Commission (INEC) to withdraw his certificate and declare Adams Aliyu Oshiomhole of the Action Congress (AC) party the winner. On November 11, 2008, a federal Appeal Court sitting in Benin City upheld the ruling of the state's elections petitions tribunal, declaring Oshiomole to be the Governor of Edo State. The decision was based on several voting irregularities.
Personal Life
Oserheimen Osunbor is happily married with six children. He is a Christian of the Anglican denomination and a Knight of Saint Christopher
Adams Aliyu Oshiomhole (born 4 April 1952), is a Nigerian politician and the former national chairman of the All Progressive Congress. He had previously served as the president of Nigeria Labour Congress from 1999 to 2007 and the executive governor of Edo State, Nigeria from 2008 to 2016.
As APC national chairman, he was suspended from office by the Abuja Court of Appeal on 16 June 2020.
Background
Adams Aliyu Oshiomhole was born on 4 April 1952 at Iyamho, near Auchi in Edo State. He was born Muslim but was led to Christianity by his late wife Clara who died of cancer aged 54. He is Catholic and his Christian name is Eric. After his secondary education, he obtained a job with the Arewa Textiles Company, where he was elected union secretary. He became a full-time trade union organizer in 1975.

In May 2015 he married a young model called Lara Fortes.
Career Labor leader
In 1982, Adams Oshiomhole was appointed General Secretary of the National Union of Textile Garment and Tailoring Workers of Nigeria, a union with over 75,000 workers.
He lost his job shortly after and took up street to street sewing of torn clothes. This he used to sustain himself for a while before venturing into labour unionism as democracy came in.
After democracy was restored in 1999, he became president of the Nigerian Labour Congress and was prominent as the leader of a campaign of industrial action against high oil prices in Nigeria.
Early in the administration of President Olusegun Obasanjo he negotiated a 25% wage increase for public sector workers. In return he publicly supported Obasanjo and endorsed his candidacy when he was re-elected in 2003. The Textile union elected Oshiomhole for a second term as General Secretary, while he continued as president of NLC.
His relationship with Obasanjo turned sour as neglect of local oil refineries led to the reliance on imported gasoline, followed by rises in the price of fuel. Oshiomhole led strikes and demonstrations against the increase. He faced arrests, tear gas and temporary blockades of union offices, and Obasanjo introduced legislation to make it more difficult for the NLC to strike.The NLC alleges that on 9 October 2004 Oshiomhole was abducted by State Security Services during a protest, but the Nigerian government say he submitted to voluntary custody.
Oshiomhole represented African workers for two terms on the Governing Body of the International Labour Organization (ILO), serving on the committee on Freedom of Association. He was also a member of the Executive Board of the International Confederation of Free Trade Unions.
Politics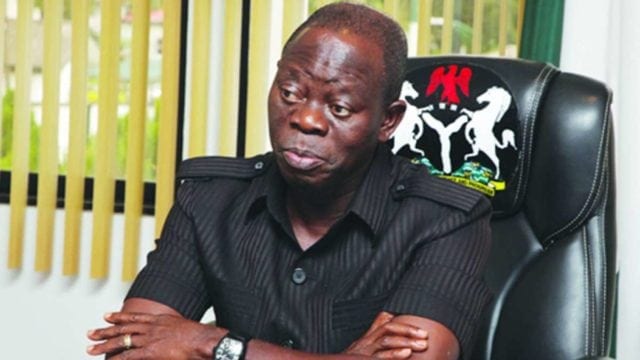 In April 2007, Adams Oshiomhole ran for Governor of Edo State under the Action Congress Party, with which his Labour Party had entered a strategic alliance.Oserheimen Osunbor of the People's Democratic Party (PDP) was declared the winner. However, the AC contested the election on the basis of various irregularities. On 20 March 2008, an Edo State election tribunal nullified the election of Oserheimen Osunbor and declared Oshiomhole the winner. On 11 November 2008, a federal Appeal Court sitting in Benin City upheld the ruling of the state's elections petitions tribunal, declaring Oshiomole to be the Governor of Edo State. The decision was based on several voting irregularities.
In 2012, he was elected to a second term, winning the elections in a massive landslide. He ended his tenure on 12 November 2016.
On 23 June 2018, Adams Oshiomhole emerged as the national chairman of the All Progressives Congress (APC) in Nigeria following a voice vote by delegates at the party National convention.
On November 12, 2019 Oshiomhole was suspended from APC after 18 local government chairmen of the party in his native state of Edo passed a vote of no confidence on him. He was accused of trying to disintegrate the party in Edo State. But a faction of the party loyal to Oshiomhole declared his suspension null and void and then suspended Governor Godwin Obaseki of the state whom they say orchestrated Oshiomhole's suspension. On January 15, 2020 Edo APC reaffirmed the suspension of Oshiomhole and said he had no legal right to continue to function as the APC national chairman by the virtue of his suspension in Edo State.
On the 4th of March, 2020 a High Court sitting in Abuja ordered the suspension of Oshiomhole from office of the National Chairman of the APC that having been suspended from the party, Oshiomhole was no longer a member of the party and could not possibly continue to discharge his official responsibilities as national chairman with a clear order of the court that Oshiomhole be restricted to national secretariat of the party.Armed security agents including the Police, Department of State Service (DSS) and Civil Defense were heavily deployed to the secretariat to prevent Oshiomhole from entering. On 5th March, 2020, a Federal High Court in Kano gave another judgment which vacated the judgement of the FCT High Court and restored Oshiomhole as the national chairman of APC. This created confusion as to which judgment to obey because both courts (FCT High Court and Federal High Court Kano) are of equal jurisdiction and non of them could vacate the judgment of the other.Oshiomole appealed against his suspension at the Abuja Court of Appeal and the court affirmed his suspension on 16th of June, 2020.
Godwin Nogheghase Obaseki (born 1 July, 1957 in Benin City, Nigeria) is a Nigerian politician and businessman, who is currently serving as the Executive Governor of Edo State. He was sworn in as the governor on 12 November 2016. He was the Chairman of the Edo State Economic and Strategy Team inaugurated by former Governor Adams Oshiomole in March 2009.
Obaseki holds post graduate degrees in both Finance and International Business, and is a Fellow of the Chartered Institute of Stock Brokers, Nigeria.
Obaseki served as executive board member of several private companies including Afrinvest. He is the recipient of the Nigerian Union of Teachers (NUT) award for best performing Governor of the year in October 2019.
Early Life and Education
Born in Benin City, Edo State, Nigeria, Obaseki is the third child of Late Pa Roland Obaseki and Gbinigie of Owina Street, Ogbelaka Quarters, Benin City. He attended St. Matthew's Primary School for his primary school education and proceeded to Eghosa Grammar School, in Benin City, for secondary education.
Higher Education
Obaseki thereafter proceeded to the University of Ibadan, where he obtained a Bachelor of Arts Degree in Classics. For his mandatory one year National Youth Service, he served in Jos, Plateau State. He later left Nigeria for the United States to attend Columbia University and Pace University in New York, where he obtained an MBA in Finance and International Business.
Obaseki is the founding secretary, (1992), of a US-based Africa Chamber of Commerce. He was also a Director of Junior Achievement of Nigeria – the local affiliate of international Not For Profit Organisation.
Career Investment Banking Career
Obaseki began his career as a stockbroker in 1983 with Capital Trust Brokers Limited, Lagos. He later transferred his services to the International Merchant Bank. He moved to AVC Funds Limited, Lagos, in 1988, where he served as a Project Manager. He moved back to New York and worked as a Principal of Equatorial Finance Company, a Financial Advisory firm. He focused on Africa and provided Structured Trade Finance for African-related transactions.
Afrinvest
In 1995, Godwin Obaseki founded Afrinvest West Africa Limited (formerly Securities Transactions & Trust Company Limited (SecTrust), which has grown to become one of the most reputable investment banking and management firms in Nigeria.
Obaseki later stepped down from his position as Chairman of the Board of Directors of Afrinvest in September, 2016, to contest the gubernatorial election in Edo State.
Politics and Public Policy
In an article by Vanguard daily, he was tagged the "Wake and See Governor. "Pundits say this is because he prefers working and delivering infrastructural projects without prior fanfare or needless rhetoric.
Before becoming the Edo State Governor, Obaseki served as Chairman of the Economic and Strategy Team (EST). In that capacity, he pioneered a number of policy reforms that saw the state restructure its public finance, secure funding for infrastructure and improve the business environment to attract investment in power, agriculture and other critical sectors. Obaseki was also instrumental in attracting the Edo-Azura power project, with support from World Bank to the state.
Aside these, some of his other reforms include:
injecting a culture of regular retreats as a platform for engagement and consensus building in planning, executing and evaluating state development initiatives and their outcomes
N25 Billion Infrastructure Development Bond from the Nigerian Capital Market in 2010
inspiring Sector-based Economic Summits and Policy Dialogue Series
For seven years in the administration of Governor Adams Oshiomhole, his predecessor, he served as voluntary Chairman of the Edo State Economic and Strategy Team as well as Chairman of Tax Assessment Review Committee for Edo State Internal Revenue Service (TARC) and the Committee on Micro, Small and Medium Enterprises (MSME), respectively.
He was Secretary of the Committee on the Implementation of the Law Establishing the present Edo University, Iyamho, and member of the Committee on Contributory Pension Scheme and Edo SEEFOR/DPO Steering Committee, respectively.
Before serving at the sub-national level, Obaseki served on the Presidential Committee on the Reform of the Nigerian Pension System[, which facilitated the introduction of the contributory pension scheme and other novel pension reforms.
He also served on the Nigerian Securities and Exchange Commission Committee on the Re-activation of the Nigerian Bond Market and the review of the Investment and Securities Act. Between 2006 and 2009, he served as a member of the Nigerian Stock Exchange Council. He is a Trustee of the Dr Jackson Owen Obaseki Foundation, a family-owned Non-Governmental Organization NGO.
He publicly stated in October 2019 that he will be running for a second term in the State's Gubernatorial election coming up in 2020 stating that his re-election is non-negotiable.
He was controversially disqualified from contesting in the APC primary elections by the screening committee due to his disagreements with the National chairman of the party and his predecessor in office comrade Adams Oshiomhole.
Policies, Projects and Initiatives
Since assuming duty as Executive Governor of Edo State on 12 November 2016Mr. Godwin Nogheghase Obaseki has enacted projects with the aim of making the state an investment hub. Such projects, includes:
The Benin River Port Project (Gelegele Seaport)
The Benin Industrial Park
Modular Refinery Project
Technology hubs
Edojobs
Asides his infrastructural projects, he has also enacted a number of social development initiatives. The state government has proposed to build about 200 Primary Healthcare Centres. Obaseki's focus in the health sector is to develop a viable primary healthcare system to provide affordable and accessible health care services to people in the state. He is also pioneering a state-backed health insurance scheme to provide a robust sector that will attract private investors.
In education, Obaseki launched the Edo Basic Education Transformation (Edo BEST) programme, an initiative to train and equip public school teachers with top-of-the-range skills and expertise for deploying Information and Communication Technologies (ICTs) in classrooms to improve learning outcomes. There is also a strong emphasis on technical education, which led to the revamping of the Government Science and Technical College (formerly Benin Technical College) to train workforce in the state.
He has also vigorously pushed Edo state as a viable investment destination. In January 2018, his government established the Edo State Investment Promotion Office (ESIPO) to facilitate investments and stakeholders engagements so as to improve the business environment in the state.
He has also contributed to the fight against human trafficking and illegal migration.
He is also embarking on a massive reconstruction of the Samuel Ogbemudia Stadium in preparation for the state to host the 2020 National Sports Festival.
Politics
On 29 September 2016, Obaseki was elected the Governor of Edo State under the platform of the All Progressives Congress.During the 2020 Edo Gubernatorial Election, Obasekiseeked for re-election but was disqualified by the party's National Working Committee from contesting the primary elections due to inadequate credentials required. On 16 June 2020, Obaseki resigned his membership from the All Progressives Congress.On 19 June 2020, Obaseki decamped to the People's Democratic Party and declared his intentions to seek re-election on the platform. PDP described him as a big catch.
Personal Life
Obaseki is married to Betsy Bene Obaseki, a financial expert. She holds BSc. and MSc. in Accounting from the University of Lagos, and an alumnus of the Kellog's School of Business Executive Management Programme, USA. He is an avid golfer.